Arthrography
This visualises the chondral lesions on the surface and cartilage loss.  In the shoulder, it also enables assessing lesions of the rotator cuff eventually associated with omarthrosis. In the knee, the coupling of arthrography and scanner provides practical information far superior to conventional arthrography, especially for studying certain meniscal tears, the patellofemoral and femorotibial cartilage (sagittal and frontal) and subchondral bone changes.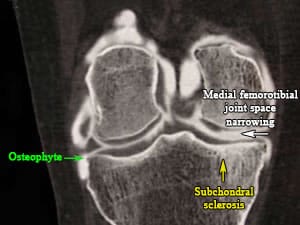 Medial and lateral femorotibial osteoarthritis. Arthrography of the knee.
CHU Pitié-Salpétrière - Pr. Bourgeois and Dr E.Zinc
Ultrasound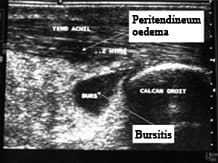 Inflammatory heel pain (talagia) Comparative MRI Ultrasound – Spondyloarthropathy.
CHU Pitié-Salpétrière - Dr. Gibert
This enables detecting a potential intra-articular effusion that has gone unnoticed on clinical examination (deep joints) and assessing the condition of the periarticular structures that are often damaged in cases of a joint pathology. It can also be used to guide a treatment procedure (drainage and/or corticosteroid injection).
MRI
This is particularly effective in incipient forms of osteoarthritis by showing chondral lesions in 30% of cases where the X-ray is considered normal.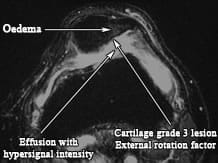 Knee MRI - Axial T2 FSE
CHU Nancy-Brabois - Dr. Loeuille and Pr. Chary-Valckenaere
Bibliographie
- Loeuille D. Imagerie de l'arthrose. Réalités en rhumatologie N°6 avril 2008
- Kellgren JH et al. Radiological assessment of osteoarthritis. An Rheum Dis 1957; 16 : 494-502
- Meenagh G et al. Ultrasound imaging for the rheumatologist. Ultrasound imaging in osteoarthristis. Clin Exp Rheumatol 2007; 25 : 172-175