General complications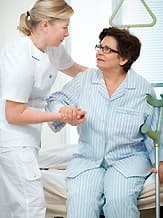 Thromboembolism: mainly observed in surgery of a lower limb. A routine LMWH prophylaxis is established, early mobilisation after surgery and wearing compression stockings.
Haemorrhage: postoperative blood loss may be significant and can be offset by self-transfusion.
Locoregional complications
Haemarthrosis and haematomas
Skin necrosis and disunity
Nerve paralysis
Vascular lesions
Infectious complications. This is a rare but serious complication that very often requires repeat surgery for cleaning and removal of prosthetic material and a prolonged antibiotic treatment.
Two clinical patterns can be observed: early post-operative septic arthritis or a latent infection, a prosthesis implanted in aseptic conditions may be the perfect location for secondary contamination from a source located at a distance (tonsillitis, dental infection, etc.).
Late complications
Joint stiffness, which it is possible to combat by early post-operative rehabilitation.
Post operative joint dystrophy: it sometimes appears early and may interfere with rehabilitation, leading to joint stiffness.
Prosthetic wear, an inevitable long-term complication.
Loosening of the prosthesis In case of early loosening after prosthetic surgery, it is imperative to search for an infection.